The seafood at Bu Qtair Restaurant is fresh and delicious. It is famous for its sea foods especially its delicious fish the Seafood is fresh, and the restaurant is clean. The food here is delicious and affordable, but don't worry about reading the menu just order whatever looks good.
If you want to feel like you're in a deserted fishery on the edge of the world, then this is your spot. A trip to its seaside restaurant will make you feel like you're in a deserted fishery on the edge of the world. The open-air, ramshackle restaurant has rickety tables and chairs, wooden interiors and a grill that sizzles right next to you. It's cash only and BYO drinks, so you might want a bottle of wine or beer with your seafood. The menu is short fish or prawns and too tempting to pass on. There's no booking, so arrive early and accept your fate when it comes to waiting for a table.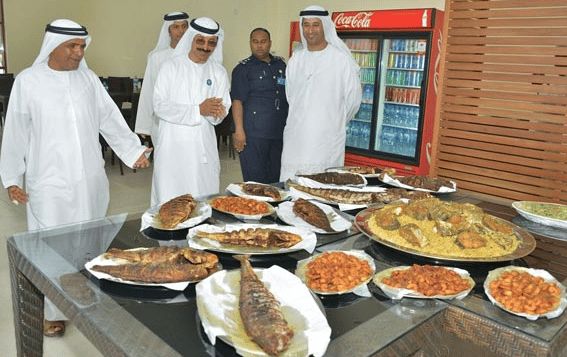 Don't expect anything fancy; this is not one of those restaurants where everything has been carefully planned out by creative chefs with long lists of ingredients behind them just good food made from fresh ingredients available locally or imported from overseas will do nicely enough for you. You can bring your own drinks as well if needed but there isn't much else except for beer which comes free with some meals here so it may be worth considering bringing along something else instead.
Bu Qtair Menu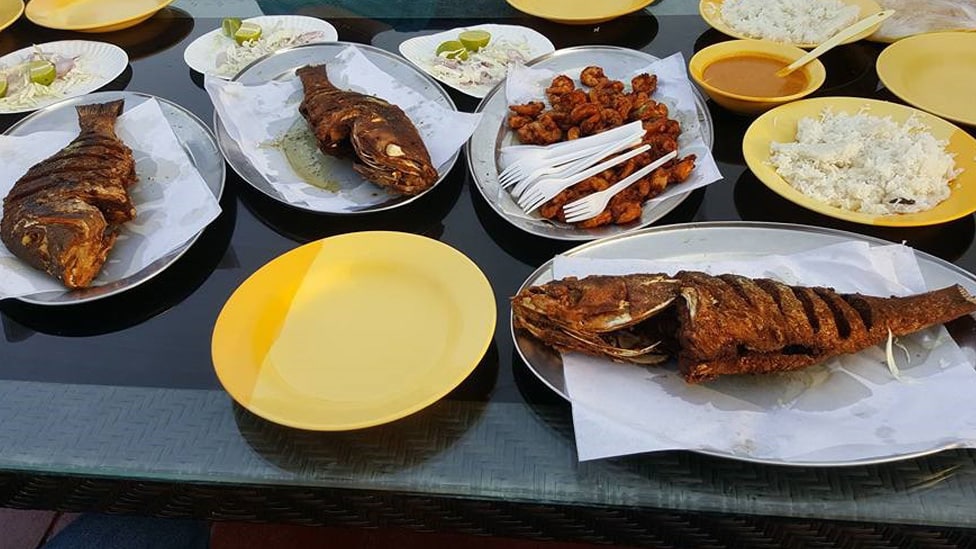 There is no written Bu Qtair Menu but we recommend try the masala fish, fried prawns, parathas, fish grill, marinated with Salt, Turmeric and a secret ingredient which is invent by the owner Moosa, and he is not agree to tell anyone.
Bu Qtair Restaurant Menu Price
The cost is dependent on the size of fish and type of fish.
The fried shrimp will cost you 75 AED, while other fish will cost you 35 AED to 80 AED, you can also try pratha with fish curry comes with 5 AED and each parathas 1 AED.
Bu Qtair Restaurant
Bu Qtair Restaurant is Located in Umm Suqeim. The restaurant has been operating since 2000 and is well known for its traditional sea food cuisine that can be enjoyed in the restaurant or on the terrace during a nice summer day.
How to book your Reservation?
You don't need to make a reservation, you have to reach at hotel and try to find a free table because it's busy each time and make an order. Also the entrance is free for this delicious food point.
When is the best time to visit Bu Qtair?
Bu Qtair is well known for its fresh fish, locals and tourists at their every time.  It is best if you go there off-peak time to book a table easily. After the sunset this hotel becomes so crowded so try to come at day time, but if you want a dinner with your loved one try to reach just after the sunset, so you can find table easily and get your order quickly.
Bu Qtair is open 11.30am to 11.30pm from Saturday to Thursday and 1:30pm to 11:30pm on Fridays.
Location of Bu Qtair Restaurant
This popular fish/seafood restaurant located across the Umm Suqeim, and having a short distance from the Burj Al Arab.
Bu Qtair Dubai Location and contact
Address: Old 32B Street, Fishing Harbour 2 – Dubai
Phone: +971 55 705 2130
Checkout : Desert Safari Dubai Deals
How to Get Bu Qtair Fish Restaurants by Public Transport
You don't have a car to get there, don't worry you can easily get there by public transport
Following are the transit lines that passes near the Bu Qtair Fish Restaurant
Bus: 8 , 81 , 88 , X28
Metro: M1
Bus stations near Bu Qtair Fish Restaurant in Dubai
Maharba Masjid – 02         4 min walk
VIEW Umm Suqeim, Library – 01           11 min walk
Metro stations near Bu Qtair Fish Restaurant in Dubai
Noor Bank Metro Station       22 min walk
Bu Qtair Restaurant Location
Attractions near Bu Qtair Dubai Fish Restaurant
Al Fannah Restaurant
Fish Market
39 Street Park
Nemo Watersports Jetski & Flyboard in Dubai
Umm Suqeim Harbour 2 in Dubai
أمواج البحر للقوارب واليخوت تشارترد in Dubai
Conclusion
Jumeirah Beach Road is a great place to eat out, but if you want a bit more of an adventure, we recommend checking out the Bu Qtair Sea Food restaurant. It's not too far from where we are now and offers some really good shrimps and prawns. It's also worth taking a look at their menu because there are many options that aren't available anywhere else.