Dubai is the city of lights, happiness, and fulfilment. People from all over the world come to visit Dubai, while others come to shop in Dubai. Some even come to see what the fuss is all about. Whatever the reason may be, Dubai has become a phenomenon. Due to this factor, everyone wants to take a bite of this city. One might think, what is it about Dubai that makes it so unique and special? Well, let me give you a slight hint because you will only get a real taste when you visit in person.
Dubai has everything covered, from shopping to playgrounds to parks. It has recreational activities, adrenaline rush-causing activities, sports, a chance to meet tons of celebrities, visit the world's tallest building, and so much more than I can cover. Today, I want to make you virtually visit a place in Dubai that you might not have heard of before.
Virtual Destination
Dubai Creek Park is our virtual destination for today. Hopefully, after reading this, you might want to visit this place yourselves. The Creek park of Dubai lies in a very strategic area between the old city of Dubai. This park is so humongous that you would not run out of space or things to do here. The park's size is what makes it exceptional.
The park's area spans over a staggering ninety-six hectares of land.  It is the second-largest park after the famous Mushrif Park. This park was built in 1994, probably before you were even born. You can find this park between the two iconic bridges, Garhoud and Maktoum, within BurDubai and Deira at Umm-Hurair, the second.
This park is so huge that it has as many as five gates for entry. Since it lies between the two famous bridges, Garhoud and Maktoum, you can find an entrance gate on each side. You can find the other three gates on the main street. To enter Dubai creek park, you would only have to pay 5 AED per person. So, you can imagine why this place is famous since it barely costs anything to enter. 
Travel in Dubai Creek Park
To reach Dubai creek park, you can try taking the metro or travel among the ferries and boats. The boats arrive at four locations at the park from Deira and Burj Dubai. If you do not want a boat ride, then the metro is a good option. The metro stops at the fourth gate of Dubai creek park. However, many people prefer to enter via the second gate of Dubai creek park. The closest metro near Dubai creek park is the Dubai Healthcare City Metro. This metro station is less than a mile away from the park on the green line.
Also, check out the desert adventure: Desert Safari Dubai
While visiting creek park, you must know the timings of the park before leaving. I am mentioning this because I do not want you to go before or after the allowed time and waste your day. You do not have to search here and there as I will tell you the time myself. The park is open every day, but the allowed times are a bit different. During the holidays and on Thursday, Friday, and Saturday, the park is open from eight in the morning to midday at noon. However, on Sunday, Monday, Tuesday, and Wednesday, the park is open from eight till eleven o'clock in the morning.
The difference in timing is only one hour.
Now let us explore what activities does the park offer?
There must be some reason as to why people come flocking here. Firstly, the park only has a nominal fee for its entrance. Secondly, the park offers a ton of activities, which I am about to discuss now. One of these activities is going to the children's city within Dubai Creek Park. The children's city has a planetarium that the children can visit and have a fantastic adventure. Another everyday activity is planning a picnic and bringing lots of food and snacks to have a blast. If you are looking for more exciting activities then do not worry, you can look forward to that as well.
Dubai Creek Park has a dolphinarium that holds a dolphin show at the creek park. Along with the dolphins, the Dubai dolphinarium also has other animals, such as seals. The dolphins and the seals put on a great show for their audience. The seals can also perform stunts, such as juggling items and jumping through hoops of different sizes.
Sometimes, Dubai's dolphinarium's department also lets some members of the audience into the water. So, you might even have a chance to swim with the dolphins. How exciting is that? Apart from that, you can gain knowledge about dolphins from the staff at Dubai's dolphinarium and spend ample time with the loving sea creatures.
World's Largest indoor theme Park: Checkout the IMG World Dubai
If you are not into sea creatures, Dubai Creek Park also has a solution prepared for that. You would be able to find at least twenty different types of species of birds in the creek park. If that is not fascinating enough, then Dubai Creek Park also offers a separate room for trampolines. One thing that I can about trampolines is that even if you are having a bad day, jumping on the trampoline would most likely lighten your mood.
Another fun activity is the maze at Dubai Creek Park. It is known as the mirror maze, a new adventure at Dubai Creek Park. Dubai Creek Park also has two theatres. One is 5D, and the other is 7D. Even though Dubai Creek Park was established in 1994, it has kept up with advancements in technology and security.
The park is also very famous among children. Children can come and visit the children's city, celebrate their birthdays and have parties at the creek park. Student groups in schools can even make trips to the creek park. However, the most exciting activity up till now would be going to the Dubai dolphinarium at Dubai Creek Park.  The dolphinarium is open every day except Sundays, from ten in the morning to seven-thirty in the evening.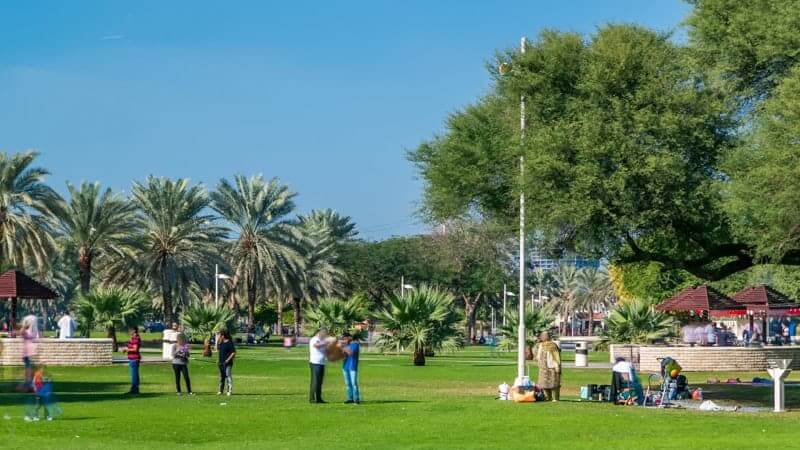 Children's city is an entire entity at the park.
It is designed specially keeping children in mind. Children can learn various activities and play all day. Along with children, the children's city is also an excellent place for families to hang out. It is a place to gain information and get entertained along the way. Children's city has a theatre for families, a planetarium, as I mentioned before, an area explicitly dedicated to nature, an entire gallery displaying scientific and technological advancements, and much more. Parents with children under six years are further facilitated as the children's city offers a playground for toddlers. This play area offers multiple games to occupy the attention of the children. The games provided at the play area are also designed considering the children's age.
Also Read: Mamzar Beach in Dubai
The play area is honestly a piece of art in its own right. A play area, especially for toddlers, makes the life of parents extremely easy. The family can roam around the large park and enjoy their time without having to be worried about their babies. It also gives a chance to the exhausted parents to rest a little and take a small break. Apart from the parents being at ease, the babies are also having the time of their lives.
The timings to enter the Children's city start from nine o clock in the morning and extend till seven o clocks at night on Sunday, Monday, Tuesday, Wednesday, and Thursday. On weekends, the timings range from two o clock in the afternoon extending till eight o clock at night. To get to the children's city, you would have to pay 5 AEDs at Dubai creek park's entrance per person. Then, you would have to pay fifteen to twenty AEDs per person at the children's city entrance.
Fun activity
Another fun activity that you can perform is visiting Dubai creek. Wooden taxis, boats, and dhows ride in the water near it. This ride is a rare and unique ride for many. The scenery at night is beautiful to watch, with dark skies and a shining city.
Check out the Dubai City Tour Packages
As I mentioned, Dubai Creek Park is an excellent place to host family picnics.  The whole park is beautifully designed, making having a picnic there more fun. Since Dubai Creek Park is huge, families can enjoy privacy during their picnic. When it comes to size, Dubai creek park extends up to the area of two football fields. They can also play games and take part in sporting challenges and make their picnic more enjoyable.
You can have a picnic with your friends or family alike. Another exciting destination at Dubai Creek Park is having fresh barbeque at your picnic. Dubai Creek Park has multiple barbeque places where families and friends can get together and have a blast. The barbeque areas at Dubai Creek Park are so famous that they line up with the top barbeque restaurants in the entire city.
Dubai Creek Park also has another theatre. This theatre is so large that it can often hold more than twelve hundred people at one time. The area of this theatre is made from stones and brings a good vibe to the place.
Area Of Park
Creek Park Dubai is so huge that even after all the things mentioned above, the park does not end. Dubai Creek Park also has a golf course in it. Can you imagine any other park having this feature? The golf course is not so massive as it only has eighteen holes throughout. Even though the golf course is small, it has become the main attraction for many visitors and golf lovers.
Dubai Creek Park has not ended yet. It is so huge that you might want to take a train to ride throughout the entire park. The train can be considered a small or a miniature train. This train travels through some parts of the park. This element of Dubai Creek Park is fascinating for both adults and small children.
Opportunities in Creek Park
If riding on a train is not your preference, other options are also available. Some of the other options include renting out a bicycle. Riding on a bike provides more opportunities for you to take your time and explore Dubai Creek Park thoroughly. Creek Park Dubai offers small or ordinary bikes that two people can ride. Big bicycles are also available that almost four people can ride.
The charges per bike depend on the number of hours you have taken the bike. A bicycle per hour costs AED 30. Riding on a bike is more calming than riding on a train. Also, you can get more privacy. Riding on a bike also gives you a chance to observe the theme of the place and see how carefully it was designed.
Morning Desert Adventure: Check This Morning Desert Safari Deals
Playground Areas
If you are tired and do not want to exercise by riding bicycles, you can try cable cars. This feature of the park turns it into a playground. The ride can take you up to thirty meters above the ground. The whole ride is completed within half an hour. The views of Dubai seen from the above-ground make it all the more worth it.
During the ride, you can see more than two km of the park, giving you a good idea of how magnificent the park is. The cable car runs from five to nine in the afternoon in the summertime, and in winter, it runs from eight to eleven in the morning. There is also an option for only Ladies to ride on Wednesdays. The cable car costs ten AED for children and twenty-five for adults.
As I mentioned before, Creek Park Dubai has some of the top barbeque spots in Dubai. You would be able to find several cafes, places serving shawarmas, small shops, and the main restaurant.
Hopefully, after reading this, you might be able to get an idea about Dubai Creek Park and wish to visit it yourself.


Creek Park Dubai Location