IMG world is one of the most adventurous and exciting places to be visited in Dubai. IMG World Dubai is an indoor theme park with four main adventurous sections and Novo Cinema. Each section comprises a particular theme and has its charm. Marvel, Cartoon Network, Lost Valley Dinosaur Adventure, and IMG Boulevard are those sections.
Operating Times of IMG World Dubai
Considering this adventurous World's timing, it operates all seven days of the week from 12 to 8 pm. However, on Thursday and Friday, it remains open till 9 pm.
IMG World Dubai Location
The other thing that you people might be looking for is the location of this fantastic indoor park. So, it is located at E311 Sheikh Mohammed Bin Zayed Rd – City of Arabia – Dubai – United Arab Emirates.
IMG World Dubai Tickets and Rides
In addition, most people are curious and need to know about the cost of tickets and overall expenses. People also look for their budget to estimate how much they need to consume. It is also worth knowing what services are included in tickets to the park and what needs to be availed by paying extra money.
IMG World Dubai offers a vast range of tickets. The entry ticket also offers unlimited free rides in all zones under 300 AED. Remember that the ticket is not used for buying food or other items.
The tickets can be brought to the main gate of this adventurous Park. Moreover, the ticket is free for children up to 1.05m in height. It is also worth knowing that the tickets, once brought, cannot be refunded, exchanged, or accessible for resale.
In addition, IMG World Dubai offers an annual membership facility. You can avail of discounts on many things if you register for the annual membership. Not only this, but you can also get free entry to annual events.
However, if you have any sort of problem or any queries, you can contact to IMG world Dubai focal person on the following numbers:
1. 600 500 962
2. +971 4 403 8888
Adventures To Enjoy In IMG Dubai
It is no doubt a world full of adventures and new thrilling experiences. There are so many rides based on different themes, that you can enjoy. It will bring you back to the Dinosaur era and explore how people lived at that time.
MARVEL
This section comprises the theme of giants and marvel heroes such as; Spiderman, Batman, Hulk, Thor, Iron man, and other avengers. These heroes are such a pleasure and source of fancy to attract children.
Rides
The section has thrilling rides that can give you goosebumps. You may feel the experience of virtual reality. Everything is artificial there, but they are organized so you can get a sense of the real presence of all those heroes.
"Avengers Battle of Ultron" ride offers you to become the part of heroes in the fight against evil Ultron. The experience is lovely and a source of fun. Other rides such as Spiderman "Doc Ock's Revenge" and "Thor Thunder Spin" are marvellous at sight and practice.
Shopping
The section not only contains rides that are based on said theme, but there are shopping stores as well. In stores, you can find gadgets and clothing based on marvel themes. It is great to find everything related to your favourite avenger in one place.
Café and Restaurants
If we talk about cafés and restaurants, they are also based on food variety related to such heroes. Their names are also grounded on various themes, such as; "Tony's Skydeck", "Chang's Golden Dragon", "Mama Scano's Of Yancy Street", and "Downtown Shawarma".
Tony's Skydeck is the most premium restaurant in this adventurous world. It only operates during company events. It is the best and most luxurious restaurant where you can enjoy delicious food and the city's best view.
LOST VALLEY DINOSAUR AND ADVENTURE
The "Lost Valley Dinosaur and Adventure" section is based on the Dinosaurs theme. Everything seems to be of that era. It is said that the section is designed according to the history of Dubai itself when such voracious creatures colonized it.
Rides
The section is full of stimulating rides that you enjoy. Just make sure you are not faint-hearted because the experience is thrilling. The rides are named " Forbidden Territory" and "The Velociraptor".
Both of these rides are based on exploring the jungles and dinosaur valleys of ancient times. Apart from all the charms of enjoyment and experience, one more fascinating thing is that it allows you to explore the ancient world. Those who have always wondered about the existence of Dinosaurs on earth must visit this region of IMG World Dubai.
In both these areas, you must be mentally prepared, or you will get afraid as everything seems so natural. While riding on "The Velociraptor", never look down as it is dreadful to see coming down from the height.
In addition, do not get too much into the "Forbidden Territory". In this, you will get a close ride to the raptor creatures once existed on earth. It will scare you, and getting too close might prove dangerous for faint-hearted people.
While other rides are more exploratory and adventurous at the same time. They are "Adventure Fortress" and "Predator". Both these rides will give you a journey across the jungles of ancient times to explore the pre-historic existence of humans.
In addition, " Adventure Fortress" gives you a combo of adventure and discovery. There are tunnels, bridges, slides, nets, and many more that can give you the most adventurous journey with safety.
Café and Restaurants
This section will also serve you the best food and dining experience. Moreover, never forget to try America's best concept of chicken wings, introduced by a ship cook. It is said to be the number 1 chicken wing recipe that you should try.
"Spice Valley" restaurant serves well-cooked and mouthwatering Indian dishes that you will surely like to taste. The shining gleam and aroma of a fresh meal will make you hungry. It is an unforgettable taste made with precious spices of the sub-continent.
Also, Check Thrilling Desert Adventure: Desert Safari Dubai
CARTOON NETWORK
Another adventurous section of the theme park is named is Cartoon Network. Your children are certainly going to enjoy and love this section. There you can enjoy many animated rides with different heroes. In addition, like other sections, you will also find dining and shopping with the mentioned theme.
Rides
The rides include a journey with power puff girls to fight against Mojo Jojo's harm. You will feel yourself in the skies and fight against evils to save the world.
You can also enjoy Ben 10 5D Hero Time and a chance to get pieces of training for different skills. During the first day of plumber training, you will get an opportunity to meet Ben 10 and Rook.
Moreover, there are other adventures in this section of IMG World Dubai, such as Amazing Gumball Ride and Adventure Time. In the Gumball ride, you will get the experience of virtual reality. You will operate a Gumball and Darwin science project, which will turn into chaos and may lead to the destruction of the earth.
While in Adventure Time, you will have a ride with Finn and Jack that you will surely enjoy. The journey will lead you to the land of Ooo, and you will also come across the Ice King. Besides, you will also get a chance to host princesses and other cartoonish characters.
Furthermore, there is a lazy town where children can perform multiple physical activities such as climbing, jumping, and Dancing at Stephanie's Dance School. For Lazy Town Pirate Adventures, you must get a pre-registration of 30 AED per adult.
However, IMG World Dubai is not operating Lazy Town in 2021 due to the Pandemic. You can only get a chance to climb and do other activities. While Dance Academy, Pirate Adventures, and Lazy Town Play are restricted to function during Covid–19.
Also, Read about Dubai Creek Park
Café and Restaurants
Now let's talk about the café and restaurants in this section. So like all other sections, the food and its area share the theme of Cartoon Network. The dishes that your favourite cartoons like are also available.
The restaurants in the Carton Network section are; CN Feast, Mr Smoothy, Richard's Around the World – Café, and Finn & Jake's – Everything Burrito.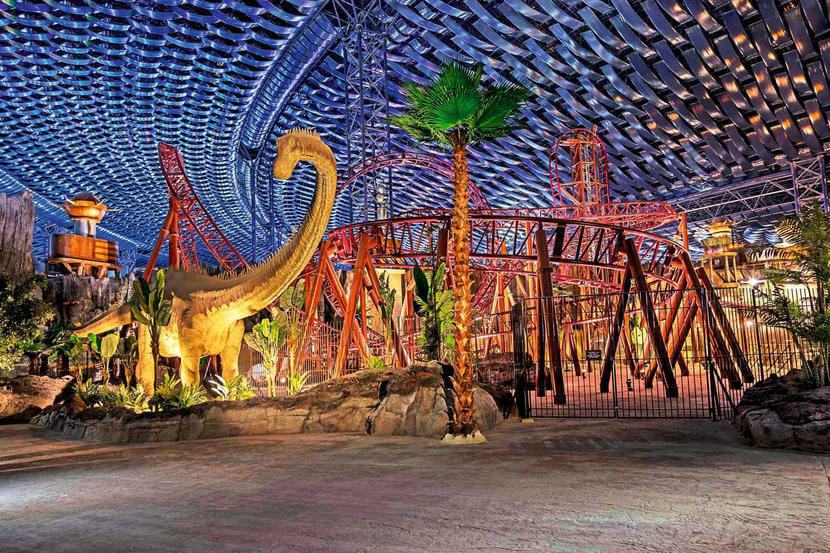 Shopping
Coming towards the shopping items of this area, you can purchase toys, clothing, and other stuff grounded on the theme of Cartoon Network.
IMG BOULEVARD
The fourth section of this mega theme park is given the title of IMG Boulevard. In this region, you will enjoy the wonders and adventures like all other sections, but the only difference is that it is more daring.
Not everyone can dare to enter this gothic world with a maze-like structure, and finding an exit is difficult. Additionally, on the way to the exit, you will encounter multiple ghostly characters that can scare you to a greater extent.
For this purpose, not everyone can enter this zone. Only adults 15 years of age and above are permitted to this section. While people below 15 years of age are restricted from entering.
Café and Restaurants
At Boulevard Gourmet, you can have a variety of the best and most popular dishes on the four continents. Along with the best quality and delicious food, you will see the most beautiful scenic views from the restaurant's balcony.
However, if you are craving some light food options, you should try The Coffeehouse. There you can get freshly baked bakery items with a pleasant aroma of coffee. You will enjoy the experience.
Looking to explore Arab culture and food variety? Then you should visit "Flavors of Arabia" at IMG Boulevard. You will be served the best dishes of Arab culture in a luxurious and somewhat informal aura.
Most people like Indian Culture dishes because of their spicy taste. If you are among such people who are fond of Indian dishes, then you do visit Samosa House. There you will get a Samosa chai combo, which is the pure tradition of Indian culture during the evening time.
Frequently Asked Questions
Now have a look at the answers to some of the most frequently asked questions regarding IMG World Dubai:
1. How much is IMG World Dubai?
The entry ticket also enables you to excess all the rides costs around AED 250. Moreover, if you want to get fast-track tickets (avoiding long waiting lines), it costs around AED 300. However, shopping and food items are to be purchased separately as per desire.
2. How many rides are there in IMG world Dubai?
There are many mind-blowing and thrilling rides based on different themes that you can enjoy. It has four main themes/ sections, and each of them has 5 to 6 rides, thus making it around 20 to 25 rides in total.
3. Who is the owner of IMG World Dubai?
This biggest indoor theme park in the world is owned by Ilyas & Mustafa Galadari Group.
4. Is IMG open in 2021?
Yes, It is open in 2021. However, some rides are restricted due to Covid–19 Pandemic. The rides include; Stephanie's Dance School, Pirate Adventures, and Lazy Town.
Last Words
This is all about the world's biggest and most exciting indoor theme park. It is a source of pleasure, and you will surely make unforgettable life memories there. If you have any further queries regarding IMG World Dubai, you can contact the above-mentioned numbers.