Most people consider visiting Dubai in summer as one of their priority choices. It is for you if you are thinking about having something more special this summer. I will demonstrate some of the best places to visit in Dubai.
Dubai, also an Emirate state, offers the most attractive places to visit. After learning about the marvels of Dubai, you cannot resist having a visit. Also, it will be the best and most memorable trip ever.
Dubai is famous for shopping, and mainly this mall is fascinating. People like to visit the city tour of Dubai for shopping as it is considered the hub for buying goods in the Arab World. So let's start with the two best shopping malls in this impressive World:
1. The Dubai Mall:
Visit the largest shopping mall in the WorldWorld, having an area of more than 500,000 Square meters. There you will find a vast collection of brands with outlets for almost every brand in the WorldWorld. There are over 1200 brands available at the Mall of Dubai.
This wonderful place is not only limited to buying goods. It has built a vast Aquarium where a diverse range of marine species can be seen. It has many other unique features, along with a food court.
In Dubai Aquarium and Zoo, there is a collection of rare species such as tiger sharks, Otters, Penguins, and Crocodiles, among many others. The close-up sight of these amazing and unique creatures is fantastic.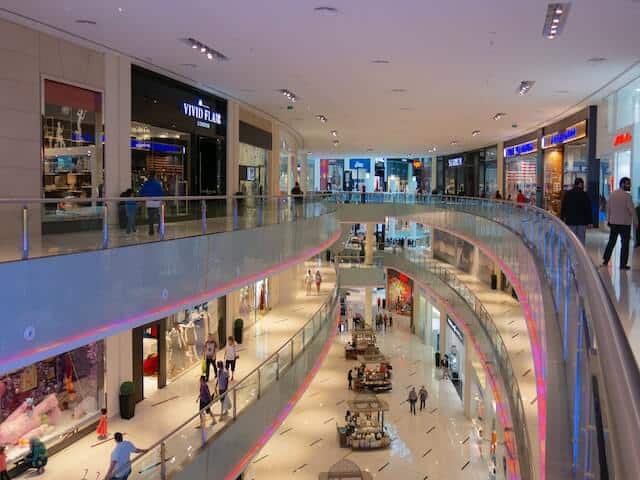 Moreover, if you want to experience something more than just a sight, it is also possible. You can dive among well-trained sharks with the help of a Scuba. Or, in case of some safer option, you can try divining inside a glass box. It will also give you the same thrills and perks of adventurous enjoyment.
Additionally, like Dubai Aquarium, you can have some other beautiful experiences. Try the experience of ice skating at Dubai Ice Rink. Also, there is Kidzania―a world full of fun for kids. Both these places also lie inside the shopping mall, thus making it a more attractive place to visit.
2. Mall Of Emirates:
Another excellent shopping centre is the Mall of Emirates in Dubai. Like The Mall of Dubai, it has many other attractions apart from shopping. If you want to feel the experience of deep-sea diving among whales or want to fly high in the spheres of the sky, the Mall of Emirates has to fulfil all your wishes.
Visit one of the most amazing areas of the Emirate's Mall Dreamscape. It is based on the latest technology in Virtual Reality. You can feel the same experience as a real one just by wearing goggles.
The best thing about this dreamy WorldWorld is that it gives you Free Roam, which means you can move freely while in virtual reality. The experience is fantastic yet thrilling as you may encounter dragons and other such creatures. You can touch and feel everything you are going through.
Additionally, there you can get many adventurous and unique experiences. You can enjoy movies at VOX cinema―having the best experience with the latest technologies and comfort. Also, there is a theatre where you can have a traditional recall of watching plays.
You will forget that you are in one of the hottest places in the WorldWorld. Not only this, there is an artificial ice skating zone where you can enjoy the perks of winter even when it is burning outside. Grasp your skateboard and have fun among North–specific creatures.
Enjoy penguins in the largest indoor ice park. There are Gentoo and King Penguins that are always fun to interact with. In short, you will have a great experience and adventures of winter without visiting North and having all the troubles.
It is not over yet; there is one more fancy attraction of the mall that enhances every visitor. Do not forget to visit Magic Planet and delight yourself with the best rides and thrills of stimulation.
There is a section of Arcade games where you can play the most charming and latest games. Want to have something exciting? Don't worry; playing and earning rewards with your gaming skills is always a fun and proud moment. So, play at the arcade gaming and earn rewards.
3. Burj Khalifa:
Want something that can give you a different yet incredible experience? In Dubai, visit the highest skyscraper in the WorldWorld. You have the most brilliant view of the beautiful city from the rooftop.
Comprising over 160 stories and having a height of about 830 meters, it is considered among the wonders of architecture. It is not only the World'sWorld's highest building but also the highest free-standing building in the WorldWorld.
4. Burj Al Arab:
Want to have the most luxurious and comfortable living to stay in Dubai? Dubai is famous for many things, and this seven-star hotel is among them. Burj Al Arab is considered one of the most lavish hotels in Dubai. It is the symbol of the Arab deluxe. It is also said that this is the only seven-star hotel in WorldWorld.
You must be wondering why such praise is, so let me tell you the reason. It gives the most beautiful sights of the Persian Gulf from the rooms. Moreover, you can have everything you can imagine as your ideal place.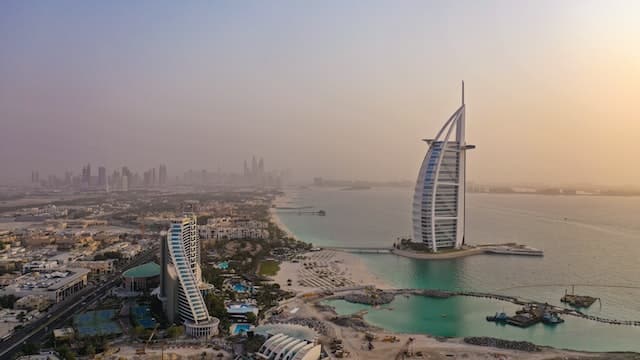 No offence, but this place is ideal as one can imagine in dreams only. The vast terrace allows you to enjoy yourself in the open. There are many sun-soaked decks to enjoy sunbath at the bay of the Gulf.
Not only is the view that it has charming, but its interior designs are made of gold. This shows the extravagance of this place. You will also find a fantastic underworld with many five-star restaurants and a large aquarium. These features make the site most attractive for tourism.
5. Wild Wadi Waterpark:
Are you fainting in the burning heat of Dubai and looking for some water fun? Then, visit Wild Wadi Dubai and have a thrilling water experience. Enjoying in pools and having water slides under the tempting heat of the sun has its charm, and you will get it from this Waterpark.
You will never be disappointed by this city as it has everything that you may want. If you can enjoy skating at Ski Dubai and diving at Dubai Aquarium, Wild Wadi offers you surfing among waves. Two surfing machines raise the waves high, thus making it favourable for surfing.
It also offers you a Ladies' Night offer, where there will be no males, and it will be women-only timings. During which the whole Waterpark is operated by female staff.
Moreover, are you looking for the best venue to celebrate a birthday? Then there is no better place than Wild Wadi. It offers you birthday packages that include meals and free rides over the Park.
6. Aquaventure Waterpark:
Are confused between visiting Wild Wadi Lagoon and Dubai Aquarium because of their different attractions? Do you want to have a diving experience as well as wish to enjoy waterslides? Not only this, but at the same time, want to relax at the cooling breeze of the beach? I have to tell you about a combo place where you will find all these adventures.
Go for Atlantis Aquaventure Park; you will enjoy the Waterpark and the Aquarium and Beach perks. It holds waterslides among the collection of the World'sWorld's most prominent and highest waterslides.
Admiring a peaceful and relaxing pool experience is good in summer, but one should be daring and adventurous. So if you are among such brave-hearted and robust people who like to have adventures, then you must try the waterslides of Aquaventure.
Furthermore, it is also the best place to visit if your children want to see some unique and voracious marine creatures. Aquaventure Theme Park holds a vast range of aquatic species worth looking at.
Imagine how wonderful it is to meet friendly creatures of the sea. Among the different types of Sharks and Sea Lions, you will find Dolphins as well. It is the most exciting thing ever because our children already admire such creatures.
After having lovely mind-blowing sights of marine creatures and adventures of Aqua, relax at Aquaventure's Beach. Sitting on the sand and watching the rising tides has some different charms. The roaring calmness of the sea is lovely.
7. IMG World Dubai:
Another wonder of Dubai that many tourists admire and an all-time favourite of residents is IMG World Dubai. Like other places in Dubai, there are many things to do. It is considered to be one of the biggest theme parks. Comprising four sections, it is a whole pack of fun for children.
You can call it the World of Children based on the fancies that attract children the most. There is a Cartoon Network section along with Marvel, Lost Valley Dinosaur Adventure, and IMG Boulevard.
You and your children will surely like the place as the Park mainly revolves around cartoonish themes, so children admire it. They will get a chance to meet all the characters of Cartoon Network there.
However, if you think the Park may be boring for adults, then you are wrong. It has multiple fascinations for adults as well. It also requires you to be daring and brave enough to go through the valley of such giant and horrible creatures. Again you will find haunted themes of rides, and the journey through Dinosaur valley is not as easy as you think.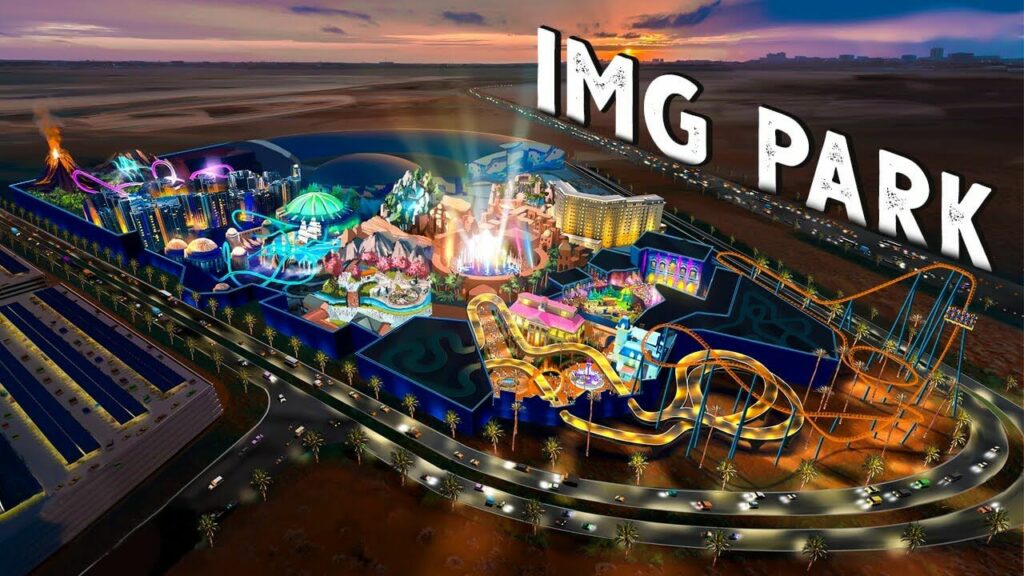 All the sections are perfectly managed according to their respective theme. In each area, you will get food on the related subject of that section. Also, shopping stores in each team contain all related items to the section's theme.
8. Palm Island Dubai:
It is not over yet; there are many other fascinations of Dubai that you could not find in other countries. It has three artificial palm islands: Palm Jumeirah, Palm Jebel Ali, and Palm Deira. Visit such a fantastic place will be your everlasting memory.
Let's move toward the details of these Islands. The first thing about them is that they are consider the 8th wonder of the WorldWorld. No other country has such a fantastic marvel of architecture.
There are almost 9 to 10 thousand living areas, including villas, homes, and Apartments. Additionally, there you find up to 60 luxurious hotels to dine in. Out of three Islands, only one, Palm Jumeirah, is open for visitors and has all the necessary features to carry out activities.
The Island also has shopping malls, play areas, cinemas, and many other things to enjoy. Surprisingly, these Islands were complete in only four months. In making these islands, 12 pounds of rock and more than 53 million pounds of sand were used. So, how can you miss such a marvellous place if you visit its native city?
Find Best Activities : Zero Gravity Dubai
9. Dubai Desert Safari:
It is time to look at some very different experiences of sand. You may have enjoyed the fancy pools and lovely sights from skyscrapers, but this is something you can only find in Arab countries.
What about experiencing a camel ride or horse ride? It will hopefully be my first experience of a camel ride. The scariest and most spirited ride in the desert is both adventurous and fun.
The Safari Desert contains beautiful white sand made of condensed shells and coral. This sand is the beauty of the desert that makes the sights a bit more fascinating and charming.
You can get many deals for visiting the place, such as pick-up and drop-off service, along with a desert ride in a luxurious Land Cruiser. You will also be served with BBQ buffet-style dinner.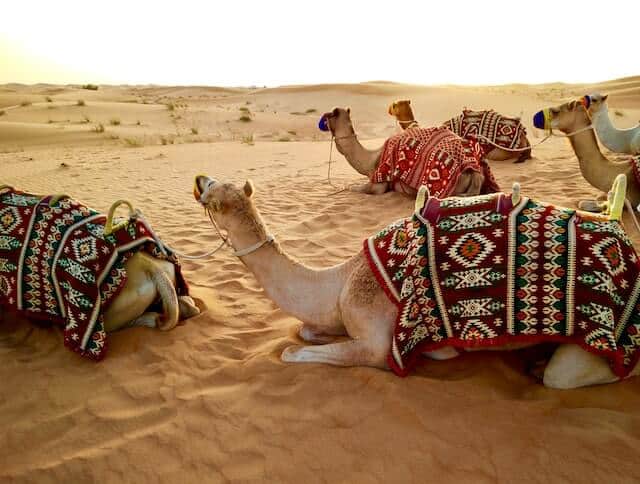 You can have a visit in either of two shifts, i.e. Morning Desert Safari and Evening. It is up to you what time you would prefer to have a ride to the Desert Safari. If you are visiting Dubai, you must try the experience of ancient Arab culture and explore how they did centuries ago.
10. Jumeirah Beach:
Named after one of the districts of Dubai, Jumeriah Beach is one of the perfect places for family time. It is located on the coast of the Persian Gulf in the Mediterranean Sea. You will find something for everyone there.
Visiting the beach is always a source of pleasure for everyone. The water beneath your feet and the striking, energetic waves are excellent. People from far-flung areas come to visit beaches as it is the best experience one can ever have.
You can also access Jumeriah's Private Beach for a more pleasant experience. There are expensive and glamorous hotels to enjoy meals at. Apart from the charms of all the exciting places that give you thrills, being among the rising tides has its fancy. One can never be bored of visiting a beach.
11. Dubai Miracle Garden:
If you are fond of nature and love to explore the wonders of the natural WorldWorld, then this is the best place to be visited. It was launched in 2013 and is now considered the World'sWorld's most significant wildflower park.
Each year, when the temperature falls, the Park opens. It contains about 50 million flower species over approximately 72,000 square meters. Imagine over 50 million flowers and some 250 million plants; how wonderful it would have been to see such pleasant sights.
There are many other beautiful sights that each garden segment contains worth watching. The Statue of a floating lady, Lake Park, and Floral 3D designs are attractions.
One thing more, the umbrella tunnel of this Garden is fantastic. The roof of colourful umbrellas is such a lovely sight. You can have some good clicks to save as best memories.
12. Dubai Marina:
One attraction in Dubai is its Marina; you can walk beside the water while looking at the marvels of modern creations. High buildings well decorated with light give the sense of human achievements and the perks of city life.
What about having the wonderful experience of a yacht journey and then having a delicious buffet dinner? You can have all this at Dubai Marina.
Think about the beautiful experience of skydiving in Dubai; you can see many famous places in Dubai from a bird-eye view. Moreover, you can have the best experience of sky diving there. Through this, you can make your flying dreams come true, so enjoy high in the air.
Last Words:
This short description of some of Dubai's best places to visit. However, the list is not limited to these as there are many other fascinating places in the city. You can have a Helicopter journey to see the city from a vantage point. Also, you can have a ride on a hot air balloon, which is also a unique experience that one can have. So, keep exploring Dubai, and you will find something more attractive in it each time.